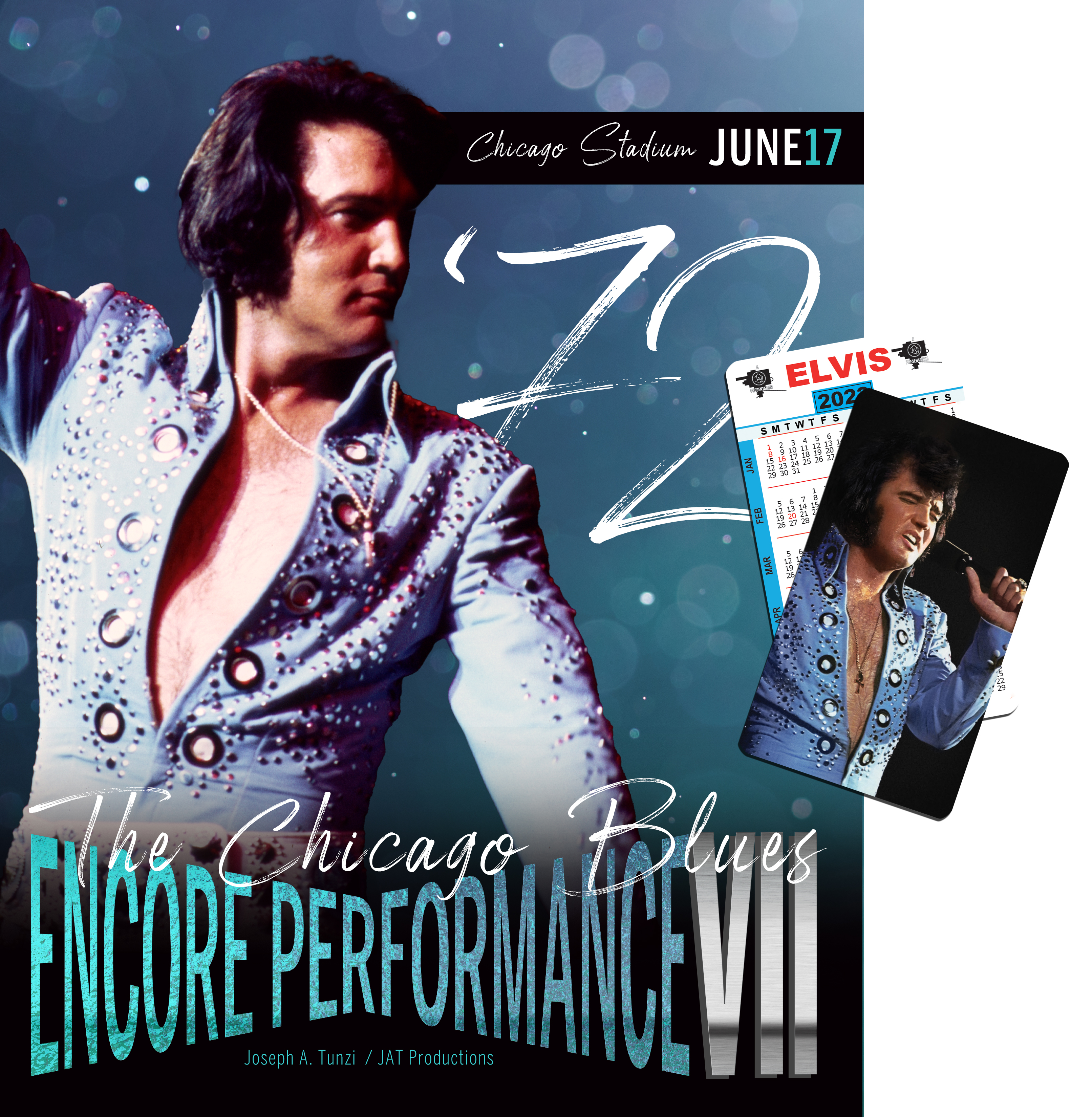 Elvis Encore Peformance VII: The Chicago Blues (June 17, 1972). This release will include a 2023 pocket calendar.
Retail: $69.95 (plus S&H)
---
The Definitive Vinyl Artwork of Elvis Presley, Vol. 2: The Back Covers, is a follow up to The Definitive Vinyl Artwork, which focused on all FRONT COVER artwork and photographs that were part of 45 RPM singles, extended play and long play albums. This new volume takes you on a journey of those same albums, focusing this time, on BACK COVER artwork. Also included, are some alternate back covers that were never used and much more!
PLEASE NOTE: The back covers were included in the first volume, for 45 singles only.
---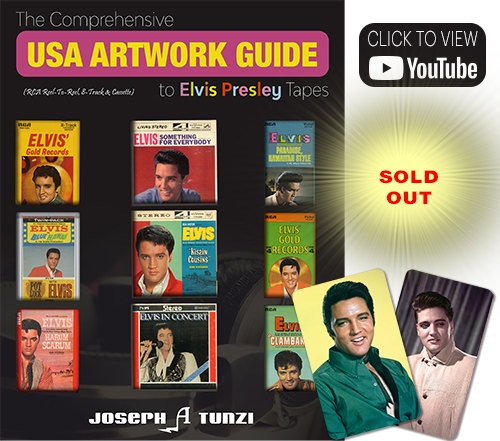 The Comprehensive USA Artwork Guide to Elvis Presley Tapes (RCA Reel-To-Reel, 8-Track & Cassette) features a collection images of Elvis Presley albums released on tape from 1960-1977. This is the perfect companion to the best seller - The Definitive Vinyl Artwork of Elvis Presley 1956-1977(See Below)Included with this release will be a 2022 pocket calendar featuring and image initially chosen for the Elvis Is Back reel-to-reel AND a 2021 pocket calendar featuring an image found on inserts of several cassette releases.
Retail: $69.95 (plus S&H)
---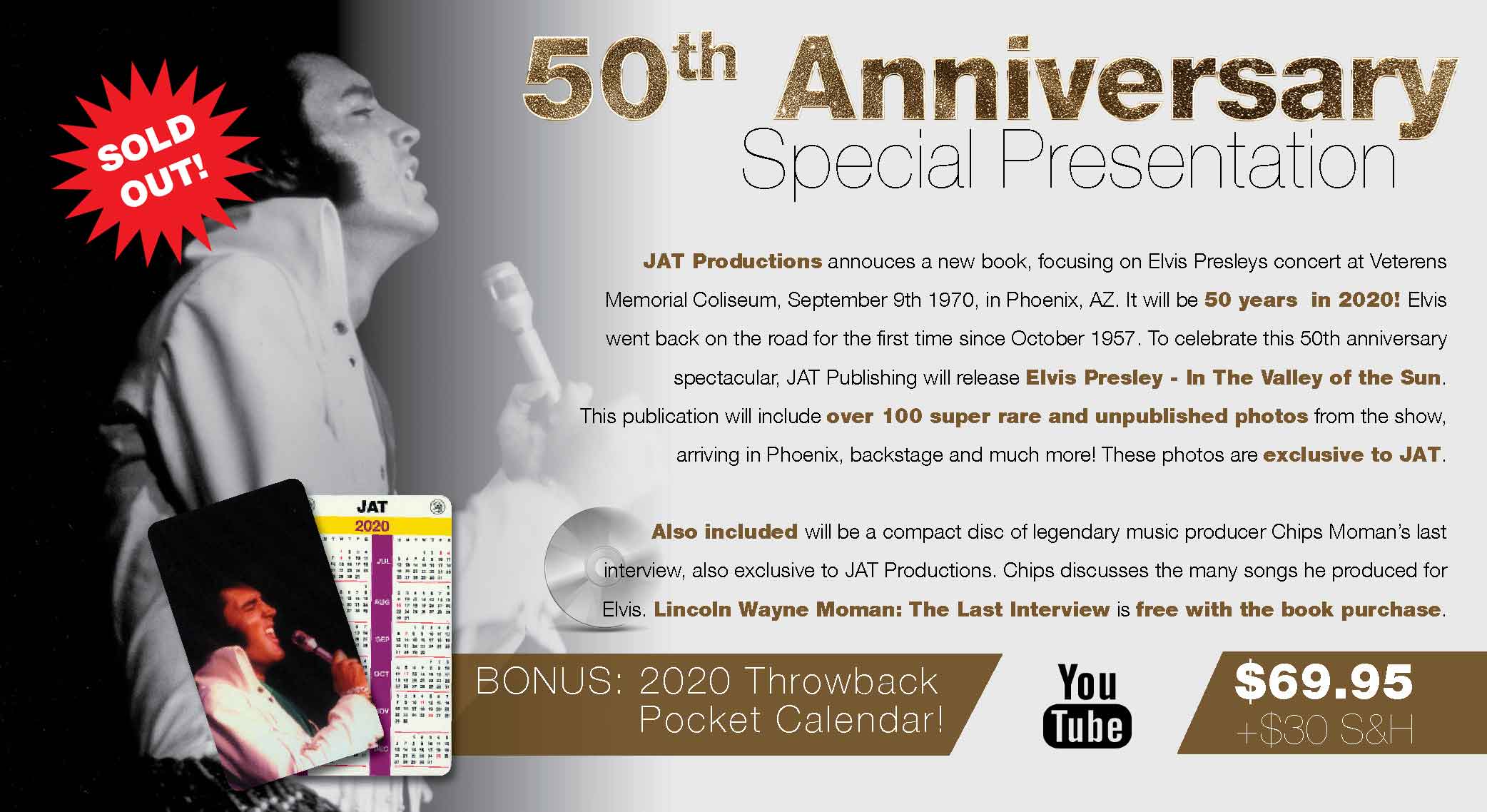 ---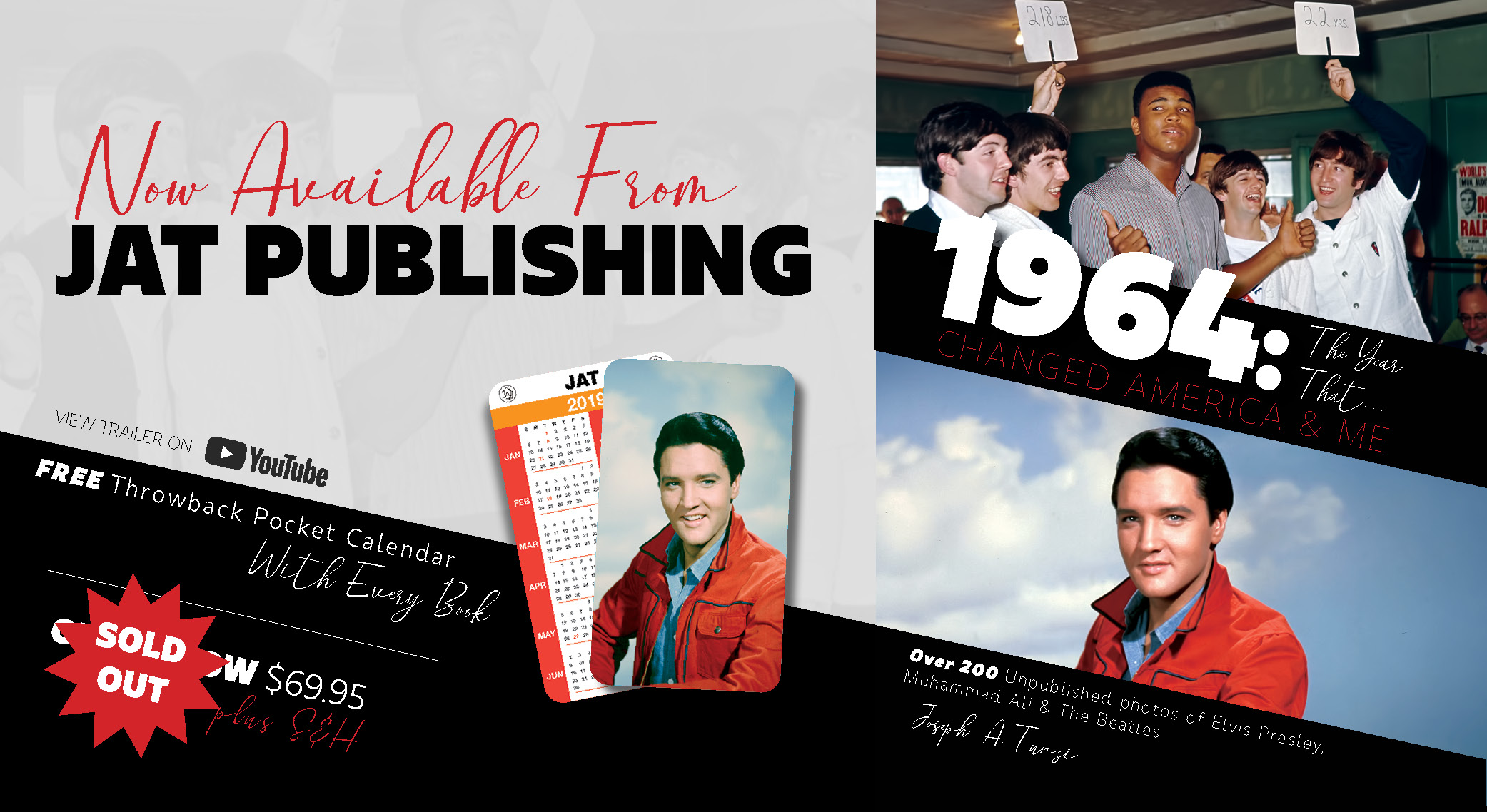 ---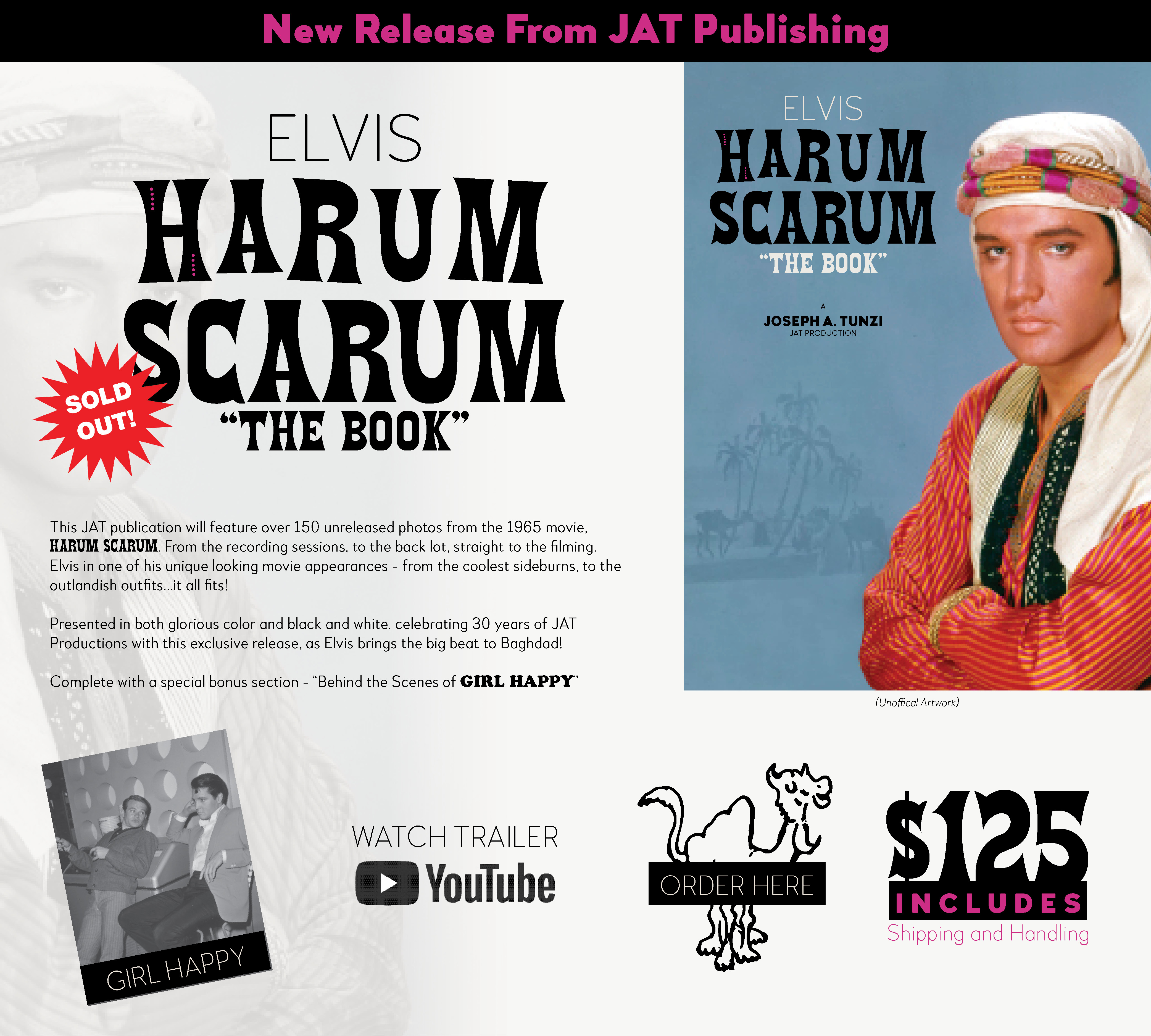 ---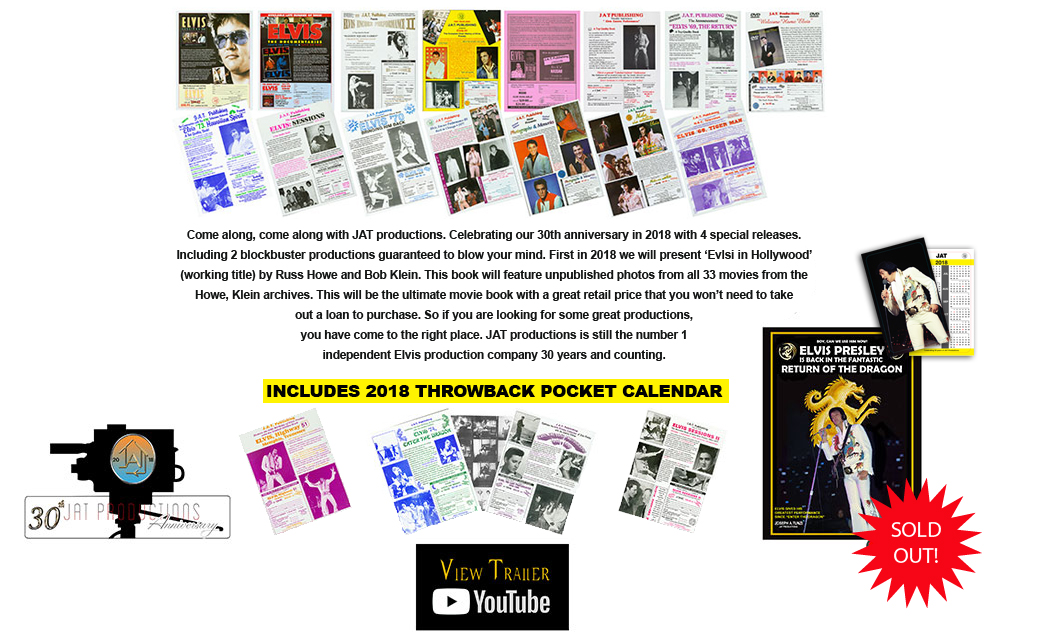 ---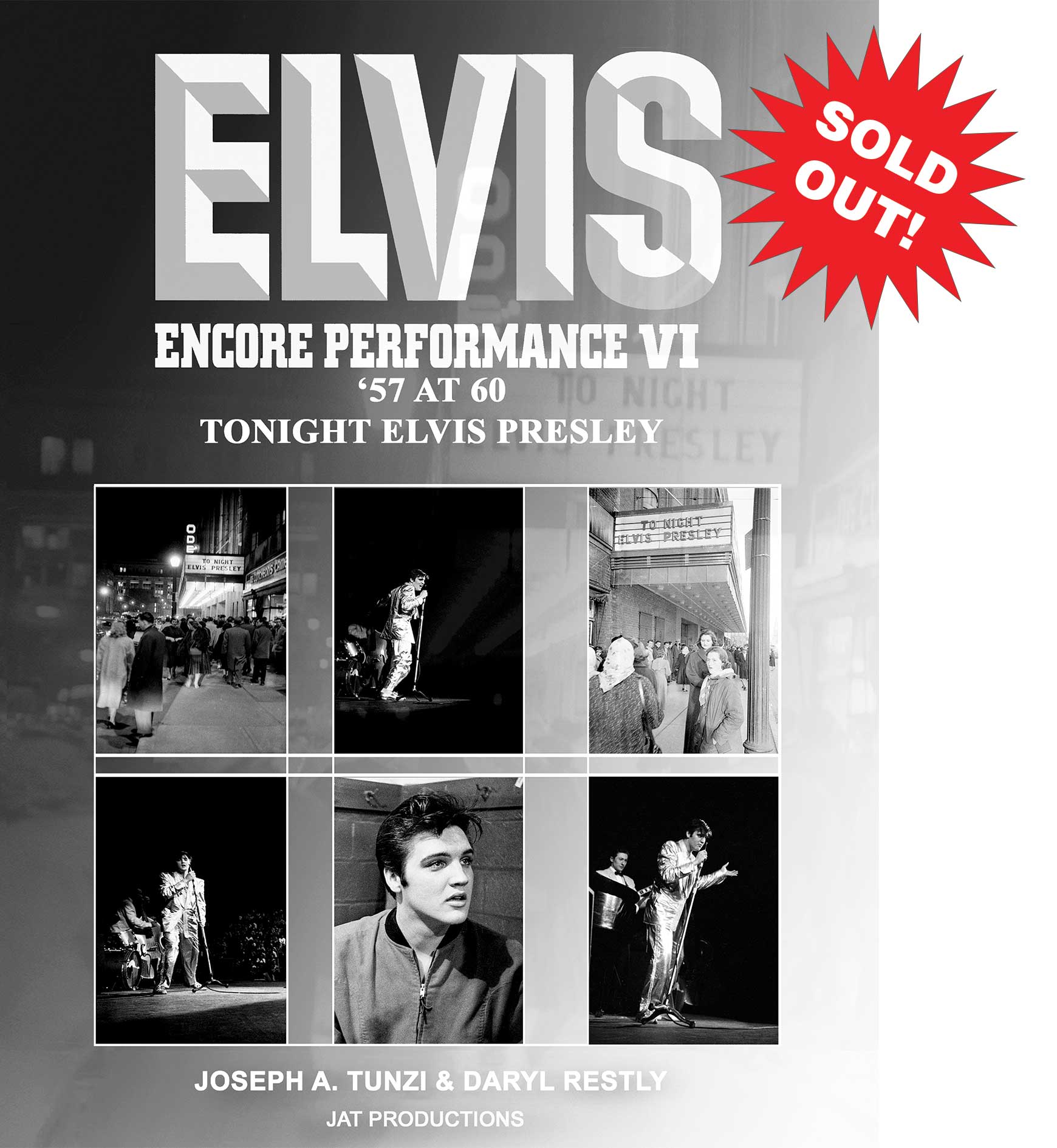 A new book publication by Joseph A. Tunzi / JAT Productions and Daryl W. Restly, Encore Performance Volume VI: '57 at 60 ‐ Tonight Elvis Presley, will feature unreleased photos of Elvis Presley, from the John Sebert collection, that were taken on April 2, 1957 at Maple Leaf Gardens in Toronto, Canada. These photographs are taken from the original negative sources and appear in better quality than you will find in other publications. Back in 2015, while JAT Productions was preparing the book, Encore Performance V: One Performance Only, Featuring Chicago '57, Tunzi acquired the original negatives from the John Sebert collection. This collection included over 300 photographs taken that evening. '57 at 60 ‐ Tonight Elvis Presley will retail at $79.95 (includes shipping & handling) and will feature roughly 250 of these images. Be sure to order your copy today!
---
---
Elvis Dateline...1970 Bringing Him Back Again is a new book which picks up where the best selling Elvis In the Dome ends
from March 1970 to January 1971. This journal will feature newly discovered and unbelievable photos from
Elvis That's the Way It Is and from the June Nashville recording sessions, also unreleased concert photos exclusive
to this book from September to November. This is slated to be an early summer release.

---
---

The Definitive Vinyl Artwork of Elvis Presley 1956-1977 will be an Elvis keepsake forever. This will be the perfect
companion piece to the elaborate Elvis Sessions IV The Recorded Music of Elvis Aron Presley 1954-1977.
The Vinyl Artwork book will contain most of the original photography for the albums, singles and extended plays
released in Elvis Presley's lifetime. Many of the photos will be the full gorgeous images as they were originally photographed
with many never before seen in their entirety. Many of these photos are considered to be some of the greatest photography on Elvis Presley.
Pictured with each image will be the original release it was used for. However, the book goes far beyond that, as it also covers the alternate artwork,
letters and documents, some of the original artboards and layouts that were worked on, and details examining the photographer, date, and place
where they were photographed. Lastly, it will also investigate the changes and corrections such as the use of reversed photographs and the use of
photos that were altered on the original art. In essence, The Definitive Vinyl Artwork of Elvis Presley 1956-1977 will not just be a photo journal,
but rather a historical record on how this artwork was created. The book surely will be a work of art featuring the greatest artist of all time.
---


From St. Paul To Fort Wayne" will be a photo journal covering Elvis' appearances in St. Paul, Minnesota in October, 1974
and his appearance in Fort Wayne, Indiana on October 25, 1976. There will be roughly 120 unpublished photos in this title.

---
---
---
---
---
---
---
---
---
---
---
---
---
---
---
---
---
---
---
---
---
---
---
---
---
---
Elvis Starring in Oklahoma
(includes FREE Elvis Pocket Calendar)
---
Elvis as
The One Called Charro!

Elvis Sessions III
The Recorded Music Of
Elvis Aron Presley 1953-1977


Elvis: The Documentaries
That's The Way It Is & Elvis On Tour

A Cold Night In Nashville
ORDER NOW!